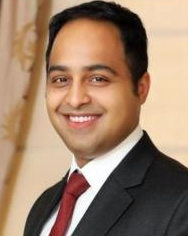 Ankit Agarwal
Managing Director Alankit Limited
Mr. Ankit Agarwal, aged 33 years, is the Managing Director of Alankit Limited, the Flagship Company of Alankit Group which is listed on leading exchanges in India - National Stock Exchange of India Limited (NSE) and Bombay Stock Exchange Limited (BSE). He is the youngest director of the Group who took charge of the business operations in 2009 and has envisioned the company's growth story. A qualified Chartered Accountant and an Associate member of the Institute of Chartered Accountants of India, he also holds a Bachelor degree in Commerce from the University of Delhi. Mr. Ankit Agarwal has an impressive record of over 9 years in the field of Finance, Accounting, Process Enhancements, Liaising & Co-ordination as well as Research activities. When not into the work mode, he pursues his interests in the areas of Photography, Traveling, Music and Adventure Sports.
Major Achievements/Projects Handled
Mr. Ankit Agarwal has championed significant projects which were bagged by Alankit namely citizen services through the Municipal Corporation of Greater Mumbai (MCGM), printing of Electoral Photo ID Cards (EPIC), Pravasi Bharatiya Sahayata Kendra (PBSK) in the UAE, Students ID Cards project for School Education Department, Govt. of Tamil Nadu, etc. The launch of new lines of business & services has almost doubled the revenue for Alankit over the years, under his leadership, while the existing business reached new heights through his strategic planning and skillful execution of new ideas. He has been the driving force behind the company's successful overseas operations and execution of key eGovernance projects undertaken by Alankit as a preferred partner of the Indian Government.